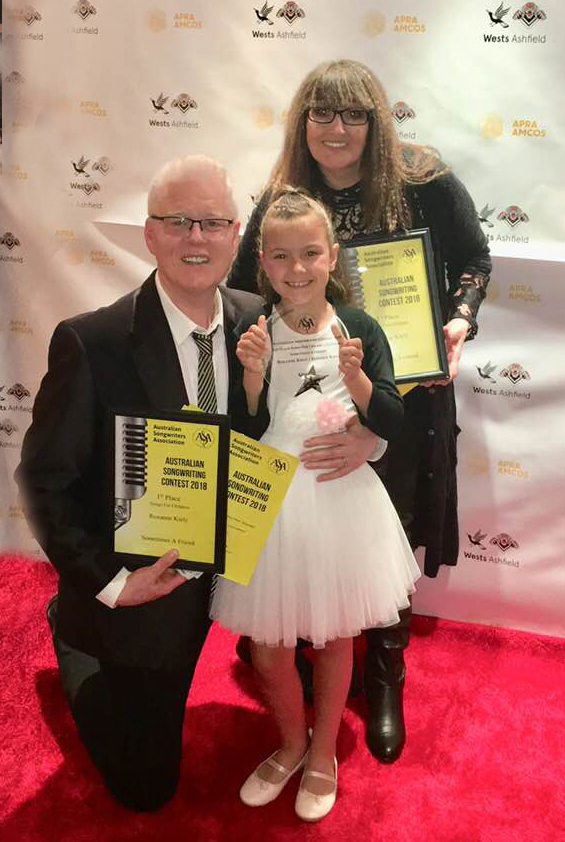 Stephen celebrates his co-writing award for 1st Place in the Songs For Children category
at the Australian Songwriters Association 2018 Awards night with co-writer Roxanne Kiely,
pictured here with the dynamic young performer Skye Clementine,
who sang the winning song, "Sometimes A Friend".
Roxanne and Stephen also won 2nd and 3rd prizes
with "Newly Truly" and "When You Wake Up".
All three songs join "Busy Izzy Says" (ASA winner 2017)
and many others in the
Busy Izzy and Friends
project.
The Art Of Piano Bar


An accomplished pianist and vocalist, Stephen plays all the major nitespots of Sydney, as well as touring internationally. Find out more about him via the graphic links or the index at left.

Piano Tuition


For the piano student who has some knowledge of music theory and preactice and who wants to play the blues, pop country or swing-style piano, Stephen has a method which suits students at any level.

Guitar Tuition


Stephen has students ranging from complete beginners to those who play well, but are looking to improve their overall knowledge. Find out more...

Bass Guitar Tuition


The bass guitar plays an integral part in the sound of a band. Together with drums/percussion, it is the driving instrument, providing the rhythmic bed of the modern song.

Vocal Tuition


Stephen's wife, Roxanne, has many students already successful and high profile stars in the Australian entertainment industry who swear by her ability to allow the singer to find their full potential.