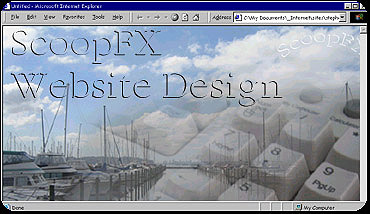 WEBSITE DESIGN

Stephen has been designing and delivering websites to personal and corporate clients since 1995. What began as a curious foray into a new and developing creative field, has continued to inspire both him and the clients whose sites he has either been the sole designer for... More


---
CD & GRAPHICS

ScoopFX delivers CD artwork for Songsalive!
Songsalive! the international songwriting organisation founded by Roxanne and friend Gilli Moon in 1997, has been releasing CD samplers of members' songs since its inception.

Except for the inaugural CD, all six of the already released CDs were designed by Stephen under the umbrella of the ScoopFX Artwork Dept.
---
DVD & VIDEO

Footage of students' performances at the most recent ScoopFX Students Concert has been compiled and edited into DVD format for those students who wanted to have a permanent record of their performance.
Stephen, with help from camera assistant Bianka Demets, captured the performances to video from multiple angles, edited the tapes and created a series of prefessional-standard DVD's for the exercise.
Coming soon - downloadable samples from the DVD's.